Esta entrada también está disponible en: Aragonés Català Español Français English
PLATED MEMORY
What a nerve my boyfriend has. He keeps saying that he doesn't remember what happened a year ago. He doesn't refer to anything in particular, he says it in general. Event X happens, then the days start to pass and, when they reach 360, it's over. He forgets.
At first I thought it was funny, we laughed together: fuck the past, let's live in the present! But the other day something happened that made me rethink everything: the guy goes and stops doing the dishes when it's his turn.
At first I took it as an innocent thing, he must be busy, I thought, and I did them myself, but the days went by and it kept coming back. Day after day. Over and over again. When I noticed that sometimes he would lie on the sofa, I realised that it wasn't a busy season or anything like that. So I did the only thing I could do: I stopped scrubbing them too.
After a fortnight, when we'd been eating off disposable plates for three days, my neighbour came round, convinced that the awful smell meant she was going to find dead bodies on the living room floor. I reassured her: "It's just a plate war".
I showed her the kitchen so she wouldn't call the police. You could barely make out the worktop behind the pile of dishes that was starting to go out the door into the hallway. I realise now that I was wrong, because far from relaxing, he came out shouting that he was going to call the health department, the mayor and the High Court of Justice if necessary. If you think I was exaggerating, it's because you haven't seen what that kitchen was like.
Moved by the prospect of the GEOS showing up at my house to stop the madness, I decided to talk to my boyfriend, who answered me in no uncertain terms, asking me what he knew about having to do the dishes. I refreshed his memory:
-Don't you remember the big fight we had when we moved in together?
-Well, that was over a year ago, wasn't it? Nothing, I don't remember any more.
OK, maybe my cheeky boyfriend does it on purpose so he doesn't do the washing up, but he made me think about something interesting: If you don't remember the mess you made that time you tried, I don't know, for example, to fix your bike without help, even if you had no idea, or to fix your friend's love life without knowing the whole story, how are you going to avoid making a mess again? And that's when I saw the importance of what they call democratic memory.
The details
On 3 March 1938, in view of the imminent rupture of the Aragon front, the Italian air force supporting the rebel army against the Republic bombed the city of Alcañiz, sowing terror among the civilian population and causing hundreds of casualties among them. An event that was silenced for decades has now regained its place in history.



The objectives and contents of this proposal can be related to the International Day in Memory of Victims of the Holocaust and Prevention of Crimes against Humanity (January 27).
Democratic memory, in law
Law 14/2018 of November 8, of the Democratic Memory of Aragon, states in its preamble:

'More than three decades of democratic exercise and autonomy in Aragon have settled a political culture tolerant and open enough to address in a serene and mature way the relationship with the traumatic past linked to the civil war and Franco's dictatorship. Building a democratic memory based on the memory of that past and the most rigorous historical knowledge is the best way to nourish our democracy with the ethical and moral principles that will strengthen it against the discourses of exclusion and intolerance, and ultimately to ensure our future of coexistence and peace.

It is essential, in this sense, to remember and pay tribute to the lives and experiences of those who strove to achieve and defend a democratic regime in Aragon, such as the Second Spanish Republic, those who suffered the consequences of the civil war, those who suffered unjust punishment, persecution or death at the hands of the Franco dictatorship for opposing it or being suspected of it, or for defending democracy and freedom.
A reflection
The regulation and normalisation of memory, its public management and its inclusion in schools testify to a maturity to confront the past with its shadows, and to lay the foundations for "freedom of thought" as opposed to "single thought".
Places of memory
Law 3/1999 of 10 March, on Aragonese Cultural Heritage, establishes a broad typology of assets of cultural interest (BIC), inventoried and deserving of different figures of protection, among which are the sites of cultural interest. To these spaces (historic complex, historic garden, historic site, palaeontological zone, archaeological zone, place of ethnographic interest) have been added the Places of democratic memory. These are spaces, constructions or immovable elements whose historical significance is relevant (according to Law 14/2018 of Democratic Memory of Aragon) "for the explanation of Aragon's past in terms of participation, defence and struggle in favour of democracy in the face of intolerance and dictatorship in the historical framework of the Second Spanish Republic, the Civil War and the Franco dictatorship".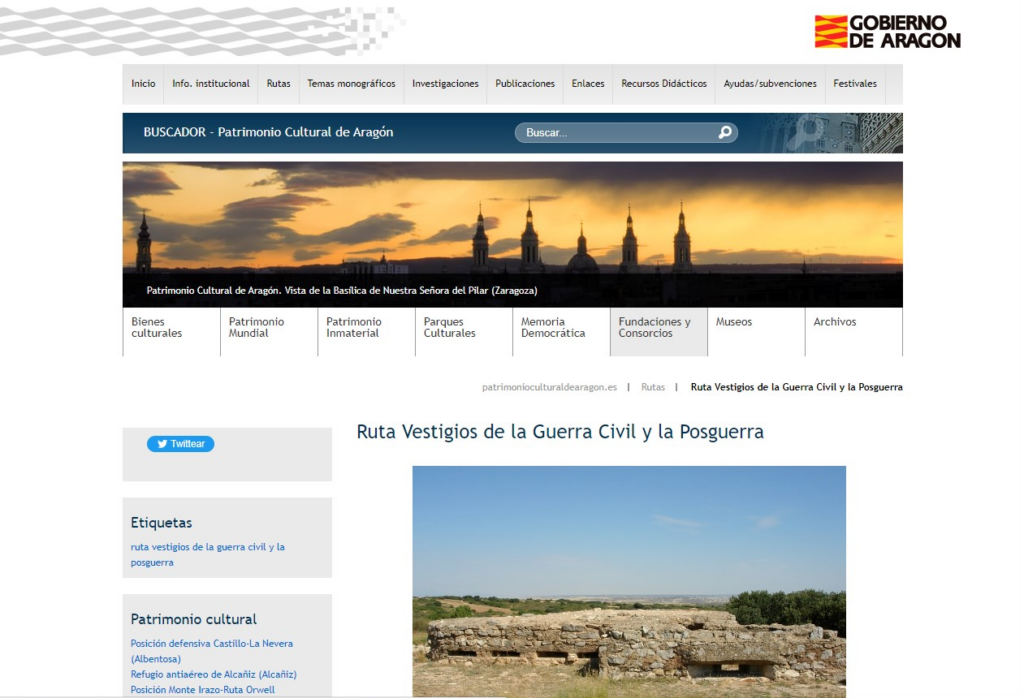 Suggestions for consultation / Suggestions for teachers
Given the scarce treatment that has been given to the history of Spain and Aragon in the 20th century in social sciences subjects (especially in ESO) (often because they are programmed for the end of the course, when the contents are dealt with in a more hurried way), it may be useful to select proposals such as the following: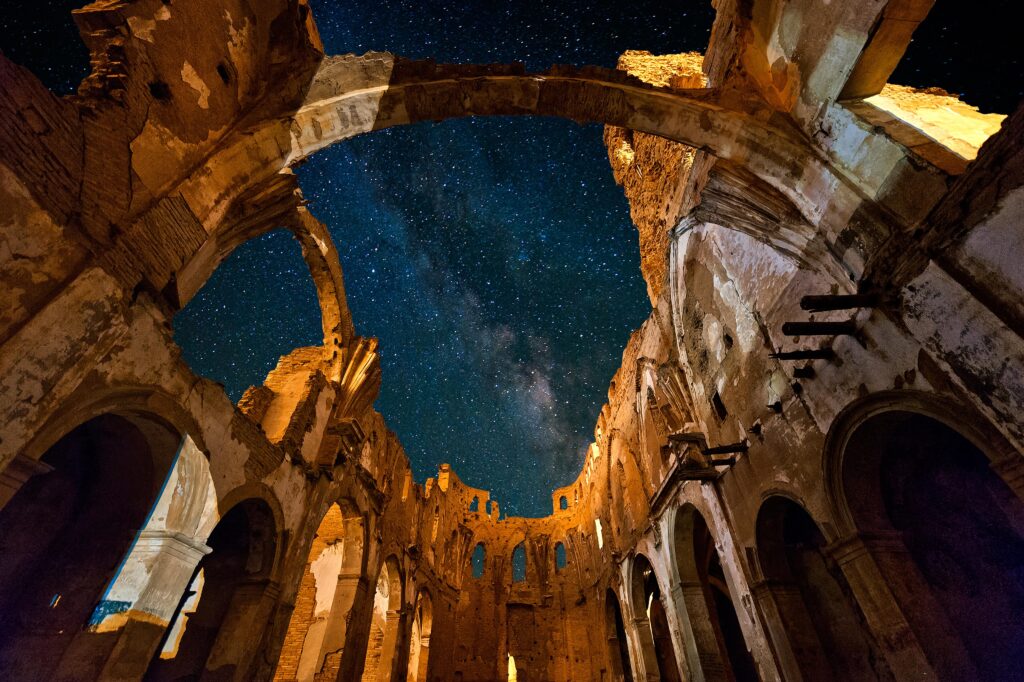 As for the demands for the incorporation of democratic memory contents into the curriculum, the teacher can situate him or herself in context through information such as: The government intends to fill the educational gaps on the dictatorship and the anti-Francoist struggle (news in eldiario.es, 21 July 2021), or Historical memory in the classrooms: a pending subject in education in Spain (news in eldiario.es, 17 June 2018).
Some information can also be taken from contents such as those provided by memorialist associations, such as Association for the Recovery of the Historical Memory of Aragon. An interview with historian Julián Casanova in Diario de Teruel (The bombing of Alcañiz goes beyond the local scope, 4 March 2022) sheds some light on this issue and focuses precisely on the origin of the date chosen as Aragón's Democratic Memory Day.
Another suggestion, which also connects us with other values, takes as its starting point a news item of January 2022 on the declaration of the tomb of María Domínguez in Fuendejalón as a Place of Democratic Memory. It connects us with the biography of María Domínguez, the first democratic mayoress of Spain, during the Second Republic, whose life is an example of overcoming. On the website "40 illustrious Aragonese" of the Government of Aragon, you can explore her life, also appreciating different didactic proposals, simple research, resources and analysis. It is also possible to relate her to some aspects of the Statute of Autonomy (specifically, the right to citizen participation in public affairs).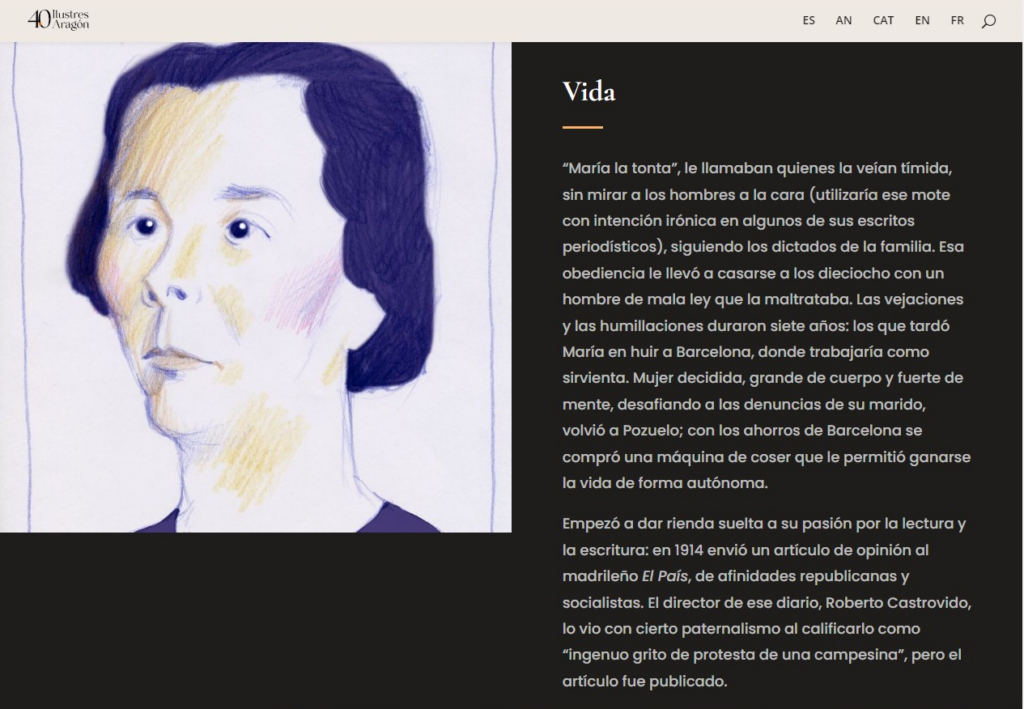 On the same website, the figure of Ramón Acín can also be seen.
As for the anti-Francoist struggle in Aragon, there is a multitude of works in Aragon on different aspects (guerrilla, workers', neighbourhood and student movements, autonomism, etc.). To select a very specific case, we recommend consulting materials such as Islas de libertad, by Pablo Marín: an academic research work on the anti-Francoist student movement in Aragon (housed in the repository of the University of Zaragoza) which can provide teachers with some clues… to encourage dialogue, interviews…
On the basis of all these premises, a series of activities can be developed for students: exploration of some of the pages referred to, a simple questionnaire to gauge their understanding of the content, a search for information on some of the issues raised, exploration of experiences or memories on the subject in the family context, exchange of ideas and opinions, composition of texts…
Transversal elements
The Aragonese Secondary School curriculum establishes the promotion of learning the prevention and peaceful resolution of conflicts in all areas of personal, family and social life, as well as the values underpinning freedom, justice, equality, political pluralism, peace, democracy, respect for human rights and the rejection of terrorist violence, plurality, respect for the rule of law, respect and consideration for the victims of terrorism and the prevention of terrorism and any kind of violence. Likewise, "children's rights will be promoted and disseminated in the educational sphere. As stated in Law 52/2007, of 26 December, which recognises and extends rights and establishes measures in favour of those who suffered persecution and violence during the civil war and dictatorship, constitutional values will be fostered and knowledge and reflection on our past will be promoted in order to prevent the repetition of situations of intolerance and violation of human rights such as those experienced at the time. The teaching programme should in any case include the prevention of gender violence, terrorist violence and any form of violence, racism or xenophobia, including the study of the Jewish Holocaust as a historical fact".
Objectives that this proposal helps to meet
ESO:
To assume responsibly their duties, to know and exercise their rights in respect for others, to practice tolerance, cooperation and solidarity among individuals and groups, to exercise in dialogue, strengthening human rights and equal treatment and opportunities between women and men, as common values of a pluralistic society, and to prepare for the exercise of democratic citizenship
To value and respect the difference between the sexes and the equality of rights and opportunities between them. Reject discrimination against people on grounds of sex or any other personal or social condition or circumstance. Reject stereotypes that discriminate between men and women, as well as any manifestation of violence against women.
Baccalaureate:
To exercise democratic citizenship, from a global perspective, and acquire a responsible civic conscience, inspired by the values of the Spanish Constitution, as well as by human rights, which fosters co-responsibility in the construction of a just and equitable society.
To consolidate personal and social maturity that allows them to act responsibly and autonomously and to develop their critical spirit. To foresee and resolve personal, family and social conflicts peacefully.
To promote effective equality of rights and opportunities between men and women, to analyse and critically assess existing inequalities and discrimination, and in particular violence against women, and to promote real equality and non-discrimination of people for any personal or social condition or circumstance, with special attention to people with disabilities.
Subjects with which it ca be linked
Geography and History / Ethical values (ESO, 1st and 2nd cycles)
Education for citizenship and human rights (ESO, 2nd cycle)
Baccalaureate: To be assigned according to modality
Development of competences
Social and civic competences